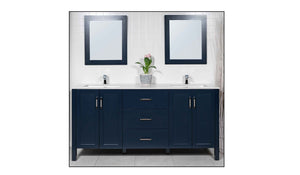 Advantages of a Blue Bathroom Vanity
Have you been considering a blue vanity? Does the idea of going with a non traditional colour made you a little nervous? Blue bathroom vanities are a stylish and versatile addition to any bathroom.

Associated with calmness and tranquility, blue is a popular choice for creating a relaxing and soothing atmosphere in the bathroom. Blue vanities can complement a wide range of colour schemes and decor styles. Overall, blue bathroom vanities offer a stylish and functional option for adding a touch of colour and personality to your bathroom.

Our blue vanities come in a variety of sizes, shades and styles including popular navy blue vanities. Options range from a small floating vanity to large double sink vanity.

Blue cabinets work well with many different counters. In particular, the marble design and white quartz have been extremely popular combinations.

All of our vanity sets include the counter, sink, faucet and matching mirror. But, you can remove the faucet and mirror from your order if you have other design plans.

The styles below are currently in stock in blue even though the picture may show it in a different colour.

Vanities that are in stock can be picked up immediately from our Coquitlam, BC showroom. If you are located elsewhere in Canada we can ship it to you within a couple days.