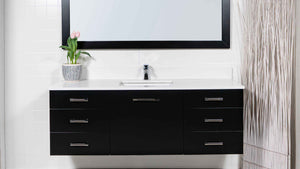 Why Choose a Black Bathroom Vanity
When we started our business in 2008 we only sold black cabinets. Several years later, after receiving customer requests, we brought in white cabinets and couldn't keep up with demand. Slowly other colours like blues and greys moved into the market as well as the wood grain finishes that are popular now. Recently there has been a high demand for black bathroom vanities again.
Black is a solid design choice for almost any bathroom whether it is modern or traditional. Adding a bold look to the bathroom, it is a versatile option that works with many different colour schemes.
While some people are concerned that black makes the room look smaller this isn't necessarily the case. With a white counter, and proper lighting, the bathroom can look quite bright and spacious.
One advantage of black is that it is less likely to show stains and watermarks compared to lighter coloured vanities. This can be particularly useful if you have hard water or messy children.
A black vanity can be easy to clean and maintain. Dust and other debris are less noticeable on black surfaces, which means less cleaning. Small nicks in the cabinet can often disappear with the help of a black sharpie or touch up paint.
Pairing the black vanity with matte black faucet and other black accessories can create a very stunning, and quite modern, design for your bathroom.

The vanities below are currently in stock in black even though the picture may show it in a different colour.
Vanities that are in stock can be picked up immediately from our Coquitlam, BC showroom. If you are located elsewhere in Canada we can ship them to you within a couple days.


Styles Currently in Stock in Black