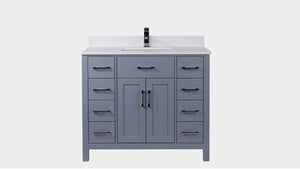 Consider a Grey Bathroom Vanity


Grey has become a popular vanity colour choice during the last several years. There are many good reasons for this trend.

One advantage of a grey vanity is that, as a neutral colour, it can easily complement a wide range of other colours and patterns. It adds a nice contrast in an otherwise white bathroom without going too dark.

It is a classic colour that works well with a traditional or modern design. The grey vanities look particularly nice with the marble design quartz counters that have shades of grey and black, or the snow quartz which has very small flecks of brownish grey.

We offer a couple different shades of grey. The cashmere grey is the lighter option and is similar to Benjamin Moore Sweatshirt Grey. The Slate Grey is slightly darker and is similar to Benjamin Moore Eclipse colour.

We have grey vanities ranging in size from 24 inches to 59 inches wide. Some of the styles are traditional designs while others are sleeker modern designs that are floating or freestanding

The vanity styles below are currently in stock in grey even though the picture may show it in a different colour.

Vanities that are in stock can be picked up immediately from our Coquitlam, BC location. If you are located elsewhere in Canada we can ship them to you within a couple days.
31.5 inch Vanity in Cashmere Grey
Styles Currently in Stock in Grey