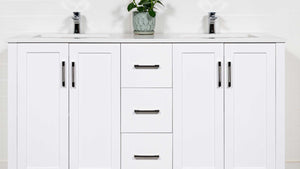 A Classic White Bathroom Vanity
White bathroom vanities continue to be the most popular colour choice for bathroom design. The ongoing popularity of white is likely because it is a timeless choice.
A white vanity makes your bathroom bright and airy. In addition, it can be styled in a variety of ways, from a classic traditional look to a more modern design.
The white or marbelized quartz counters tend to be the most popular choices with a white vanity. The white-on-white design allows for more adventurous choices for your tile of paint colour. Paired with black door pulls and a matte black faucet it can look stunning.
Our vanities range in size from small 24 inch vanities up to a 72 double sink vanity. They are available in floating or freestanding styles with either single or double sinks.
The cabinets are made from wood and the vanity sets include the counter, sink, faucet and mirror. The quartz counters also include a matching backsplash and side splash. If you already have your own faucet or mirror you can opt out of those for a reduced price. If you don't need the counter either you can email us for the price for just the cabinet.
The vanities below are currently in stock in white even though the picture may show it in a different colour.
Vanities that are in stock can be picked up immediately from our Coquitlam, BC location. If you are located elsewhere in Canada we can ship them to you within a couple days.
55 inch White Bathroom Vanity
Styles Currently in Stock in White